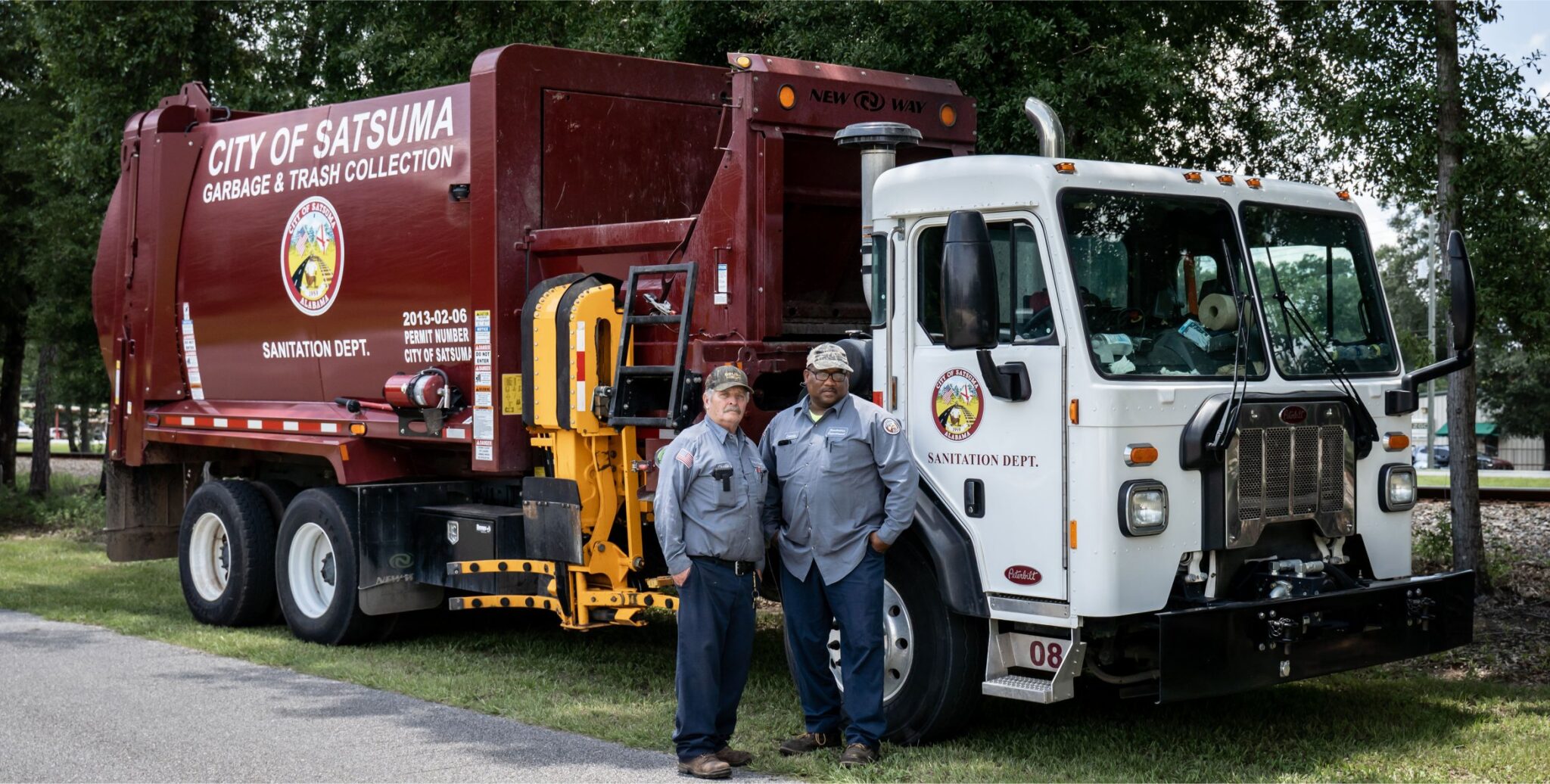 Holiday Garbage Schedule
Thanksgiving– No service November 24 & 25 (Thursday/Friday)
The Trash ramp will be open on Saturday, November 26th normal hours.
Garbage will be picked up on Friday, December 23rd and also Friday, December 30th.
The Trash ramp will be closed on Saturday, December 24th for the Christmas Holiday but will be open Saturday, December 31st.
Garbage Service Procedures
Containers must be on the street adjoining your property by 6:30 A.M. on

your day of collection and placed at least 3 feet from any other object. If you

have more  than one cart, they should be placed 3 feet apart. 

Containers may be set out after 3:00 P.M. the day before the scheduled

collections, and must be removed by midnight the day of collection. At all

other times the container must be at the side or rear of your residence. 

Handles & cart wheels facing the house. 

No Hazard Material will be picked up. 

All trash must be fully contained in the cart with the lid closed securely. Do not stack anything on top of cart. This prevents

spillage of trash on the street. 

To make sure we can collect your container, place away from vehicles, poles, mailboxes and other obstructions. Containers

must be a minimum of three (3) feet away from any object due to opening of the claw.
Trash Collection Procedures
Trash Collection will be weekly.  Call 251-679-3182 for pickup. If the driver is unable to run the complete route, then trash

pickup will be extended another day.

All loose trash must be containerized. Due to the use of a knuckle boom truck, the city will not be able to pick up loose items

that are not containerized.

Refrigerators put out for pick up must be tagged by a licensed refrigeration service showing that the Freon has been removed. 

Contractor waste (including Tree Removal, Construction Debris-including carpet, padding, tile, etc.) may NOT be placed

curbside.  The removal of the debris should be included in their cost and executed by that contractor.  LIMBS MUST BE NO LONGER

THAN TEN (10) FEET.

Bulk Waste must be placed separately from yard waste as they are taken to different locations. Yard waste must be separated

into limbs, leaves, and large trees and stumps. (Bulk Waste includes furniture, boxes, etc.)
Trash Ramp Open to Satsuma Residents Only
TRASH RAMP REQUIREMENTS – A VALID DRIVER'S LICENSE, NAME, ADDRESS AND TAG NUMBER IS REQUIRED. RESIDENTS MUST SIGN IN BEFORE DUMPING. IF YOU HAVE ANY QUESTIONS CONCERNING THE TRASH RAMP YOU MAY CALL 251-679-3182.
Directions to Trash Ramp
Turn off of Highway 43 by the car wash (Oak Avenue), follow Oak Avenue to the fourth street on the right (Catherine Street), the trash  ramp will be on your left hand side a short way up Catherine Street. Turn onto a gravel drive and enter the Trash Ramp location.  Please contact the Public Works Call Center at 251-679-3182 for more information.
Leaf Collection Procedure
Leaf pick up is done with the leaf vacuum. 

Service runs from October through April only.  At all other times leaves must be bagged.

Leaves must be raked on to the edge of the right of way and not in the street and must be piled up. They can also be placed in

your trash cart. 

Leaf piles cannot be placed over drains or in the ditch. Leaves must be a minimum of (5) feet away from any fire hydrant,

mailbox, electrical boxes or light pole.

Leaf piles containing brush, garden or yard waste will NOT be picked up. 

Leaf piles with vehicles parked in front of them will NOT be picked up.

Grass clippings and pine straw must be bagged.

The City encourages to compost or mulch leaves and grass clippings at your home  for a healthier landscape.

 

Please contact the Public Works Call Center at 251-679-3182 when you have loose leave piles, bagged grass

clippings, or bagged pine straw so that your address can be placed on a pick up list.
Alternative Disposal Information
Motor Oil- Contact your local Walmart Service Center (Saraland – 251-675-8000) to dispose of motor oil up to 10 gallons.

Vehicle Batteries – contact your local automotive parts store.

Household Hazardous Waste & Paint – contact Public Works Call Center at 251-679-3182 for instructions on

disposing of hazardous waste.

If a paint can has dried paint, the city will allow the paint can to be disposed in your garbage cart.

Tires – contact your local tire store.

Rocks & Dirt – can be taken to the trash ramp