Enjoy Quality of Life in Satsuma
The City of Satsuma is located just south of the I-65 and Highway 43 intersection in Mobile County, Alabama and once boasted of a thriving citrus (specifically satsumas) and pecan growing economy. Established in 1959, the community now serves as a suburb for the City of Mobile. Though Satsuma is geographically small (6.5 sq. miles), its population has experienced significant growth in recent years. Our current population, according to the 2010 census, is 6,168. With creeks and waterways on one side, Satsuma has become a gateway to the Mobile Delta and the Mobile River.
As a growing community, Satsuma recognizes the importance of the protection of our natural environment, and balances the need for growth and economic development with environmental consideration.
We invite you to get to know our beautiful city by browsing through our web site. Please contact us at City Hall (251) 675-1440 or use the contact form for any questions or comments.
Satsuma is located at Latitude 30.85 & Longitude -88.06.
Information on Satsuma Oranges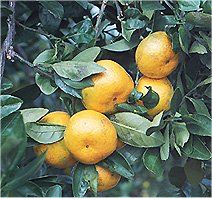 A little history…
1878 Mandarin Satsuma oranges introduced to Alabama

1900 Satsuma area known as Fig Tree Island

•

1910 Pace Orange Orchard had about 100 acres of pecans

and satsuma trees on the area

•

1915 Town named "Satsuma"

1918 Mr. Norman E. McConaghy hired as manager of the

Satsuma Orange & Pecan Groves Company.

1922 Packing house built that still stands above Mac's Landing

1912-1924 Satsuma trees damaged by cold weather & citrus

canker

1959 Plans for a Town Charter submitted to the County of

Mobile and the State of Alabama were approved. April 6, 1959

was the first municipal election